Recommended Nature and Art of Beautiful Museum in Los Angeles "The Getty"
Yesterday, after a long time,
I visited a museum in Los Angeles.
It is a very large building.
It took me about 3 hours to look around to some extent.
I have personally been to many museums, but I would like to introduce this museum as a recommended sightseeing spot.
Because it is a place where you can enjoy nature and art at the same time.
The museum is called "The Getty."
The Getty Center:https://www.getty.edu/
Hours of operation are Tuesday through Sunday, closed Monday.
Open Tuesday through Sunday, 10am to 5:30pm (open until 8pm on Saturday only).
1200 Getty Center Drive, Los Angeles, CA 90049
Parking available. Flat rate $20. Those who arrive after 3:00 pm will be charged $15.
Admission is free. (Must reserve tickets in advance.)
It is quite large and will take 3-4 hours to see everything.
This museum is recommended for those interested in American history, as it has a Native American museum as well as art works.
The location of this building is near Westwood and a famous university UCLA.
It is close to the 405 freeway, making it easy to access from anywhere.
The location is a little above Santa Monica Beach, so it will not be that far from the airport.
Parking is also available.
There are 7 basement levels and it is open every day with no problems despite the large number of people visiting.
The parking fee is $20.
You will receive a parking ticket at the entrance and can pay at the kiosk located near the elevators in the parking lot when you leave.
Once you have parked, take the elevator to the first floor, where you will find the reception desk.
You will see a lot of people lined up, so you will be able to find it easily.
First, you will be asked to confirm your ticket.
Well, I was able to enter the museum even though I had not reserved a ticket.
Usually, you need to reserve tickets in advance.
You can easily reserve tickets from the official website.
Select an open area, enter your name and address, and you're done.
Surprisingly, It's very easy and it's free.
Then, there is a check of your bag and so on.
The check is lighter than the one at the airport, so you don't have to worry about it, but dangerous items are not allowed.
After that, the monorail will take you to the building.
It can be as crowded as the Yamanote Line in Tokyo, If you know.
So walking may be a good option.
If you walk to that museum from the reception desk, it will take about 15 minutes and will be a good walk.
We took the monorail to get there and walked back.
However, you may get tired of walking as it takes about 3 hours to look around.
There are places to eat inside the museum.
I didn't eat there, but it seems to be quite expensive from Google reviews.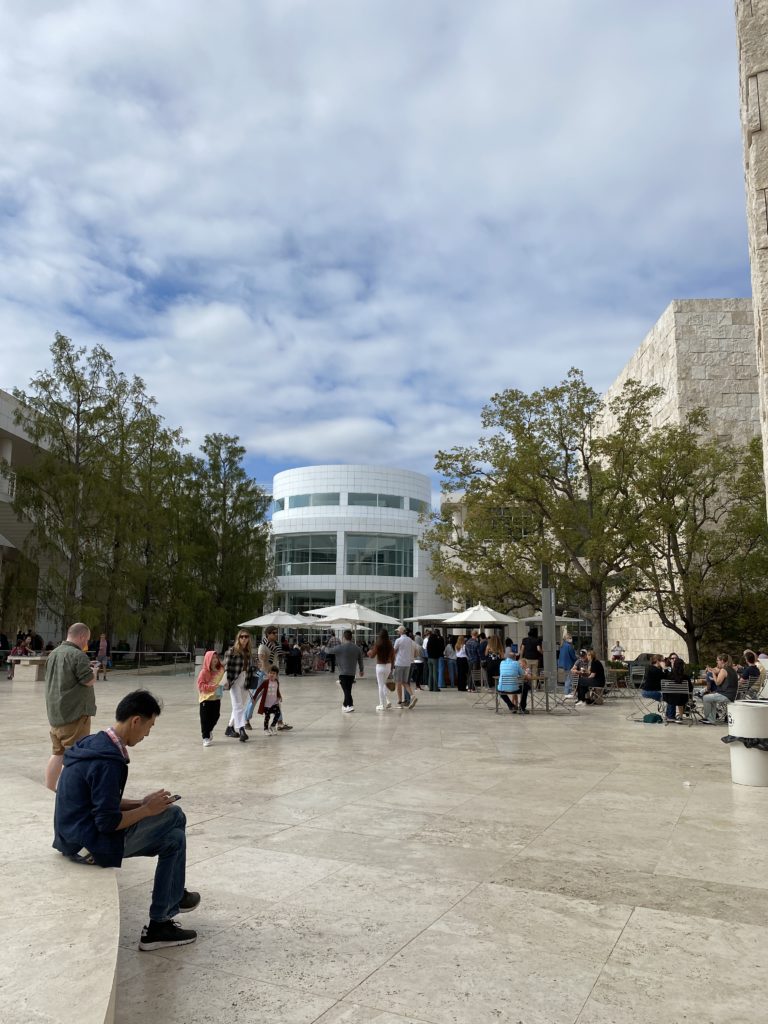 The building is divided into four or five sections, each with a garden outside.
After enjoying the various works of art and paintings inside the building, visitors can relax in the gardens outside.
After enjoying various art works and paintings inside the building, you can relax in the garden outside.
And the gardens are really beautiful!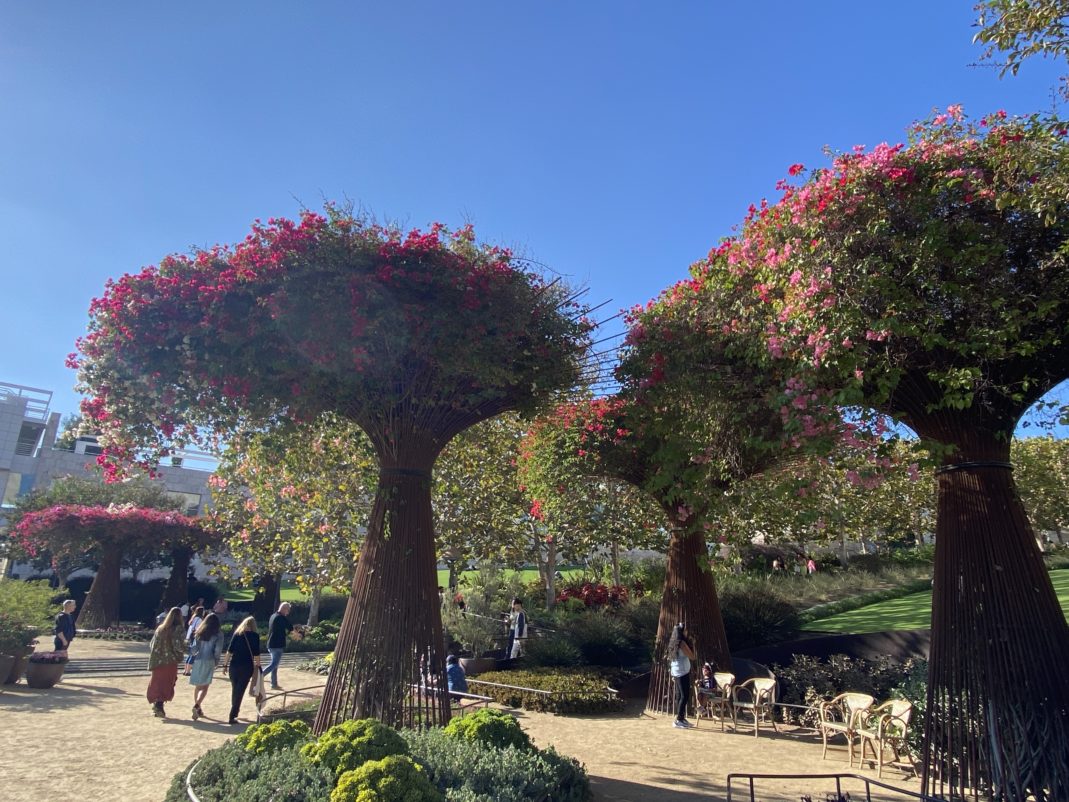 There were flowers everywhere.
Personally, I love botanical gardens, so I was very healed by this garden.
It is nice to be able to enjoy the products of nature after seeing works of art created by man.
You can relax with a cup of coffee.
Another nice thing about the Getty is that
It offers a view of the city of Los Angeles.
You can see the beautiful view from the second floor of the building.
On the second floor of this building, there is a view of LA.
On the same floor, there was a piece of art that was honestly the funniest thing I saw all day.
I think that it is a super funny statue at the second floor, so I took a picture of the funny statue.
But I won't post it here because I want you to go there and have a good laugh at the work of art.
For sure you do.
I hope you enjoy it.
Almost everyone laughed when they saw the artwork. Really, you can count on it.
There are many museums and art galleries in Los Angeles.
I think it is difficult for some people to decide which is the best place to visit when sightseeing.
This Getty is a great place to start.
I would recommend it over other museums because of its comprehensive variety of things to do. The following is a summary of what sets the Getty apart from other museums.
Free admission. (Other museums charge $10-$20, etc., and some are more expensive.)
If you don't eat, you only have to pay for parking.
Lunch can be served in the facility.
You can enjoy both nature and art works.
You can see the city of Los Angeles from the top of the building.
There are statues that are so funny that you will surely have a laugh at least once.
The best part is that there are many families and tourists.
I felt that there were many families and tourists, but you can enjoy the museum by yourself without any problem.
If you are planning to visit Los Angeles, this is a great place to visit if you are planning to visit museums.
It is also a good place for a date since the grounds are quite large and you can get to know other people at a distance. I saw many couples there.
That's all for now.
If you are ever here in Los Angeles California.
I am sure you will have a great time at The Getty Center.
I bet you'll have a laugh and a smile for the rest of the day!
Thanks for reading.
ZenJin