【Alaska】3 Recommended Eating Places & Restaurants for Travelers to Fairbanks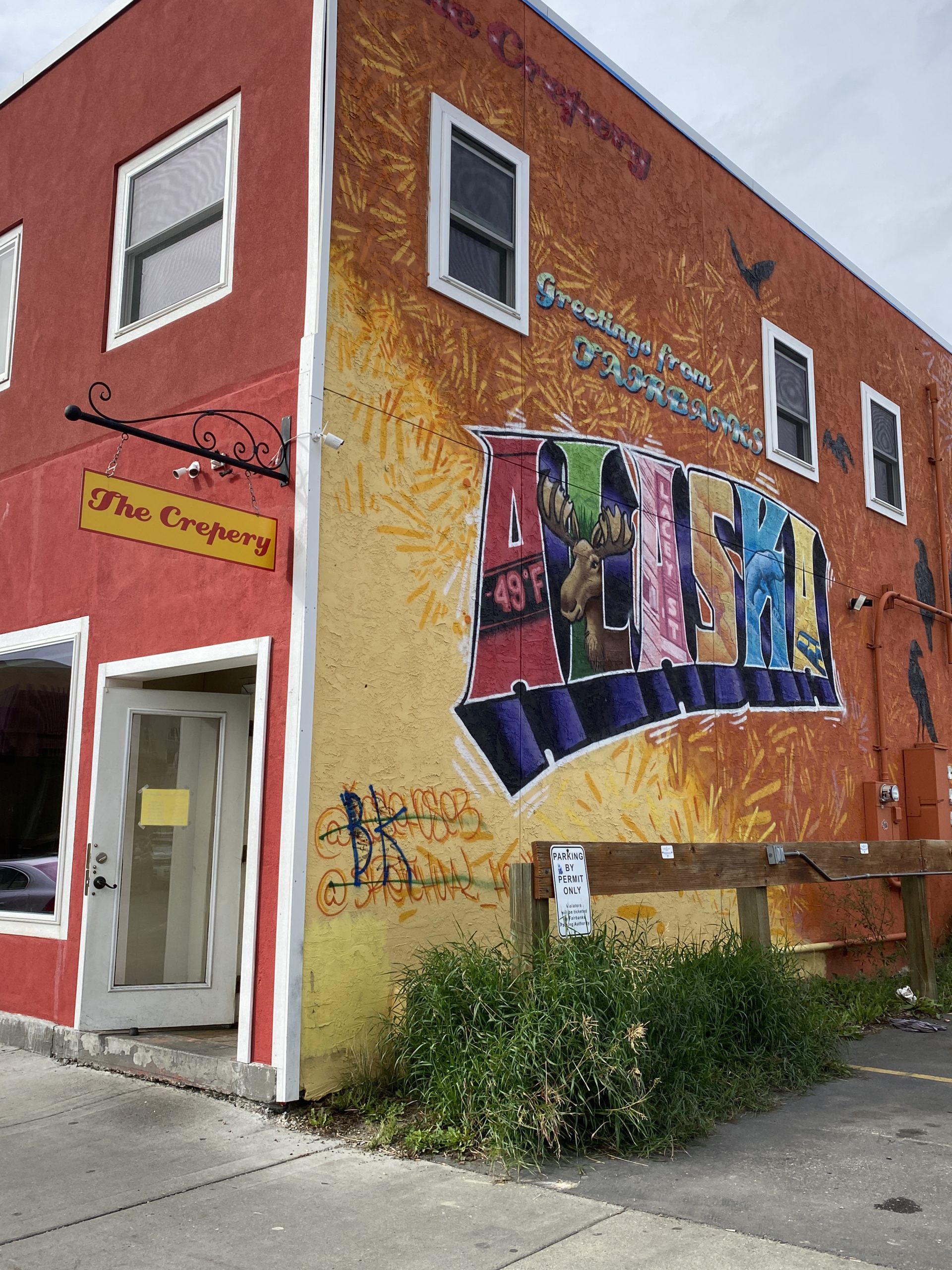 This article is for those who are going on a trip to Fairbanks, Alaska.
I have a recommendation from an article written a few days ago.
In addition to the places introduced in the previous article, but for this time, I would like to introduce some other recommended restaurants in Fairbanks, Alaska.
Fairbanks in Alaska is a town that is visited by many tourists.
Therefore, hotels and rental cars are very expensive during the season. Restaurants can also be quite pricey depending on what you order.
For example, The King Crab that maybe people want to have in Alaska, I think it is a good place to get a satisfying meal for around $100, depending on the size of your order. But it is still an expensive meal.
So for this reason, I would like to introduce a meal that I visited and found to be reasonable and truly delicious.
The restaurant is "The Crepery."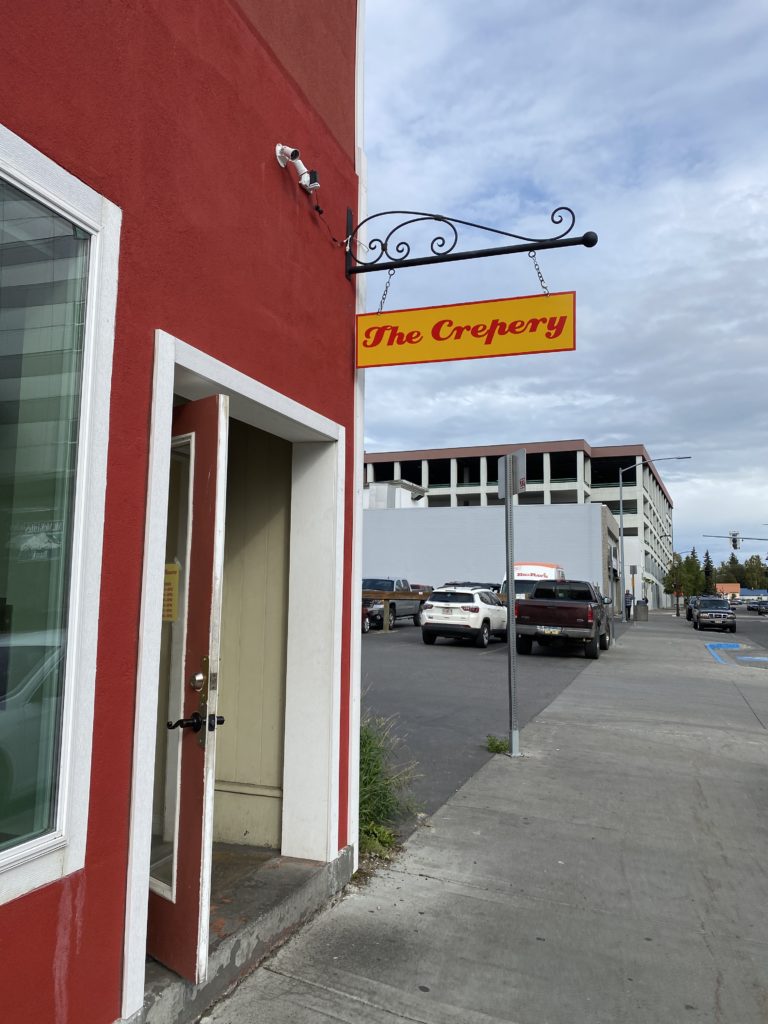 The Crepery: https://www.thecrepery.net/
The Crepery is serving a creperie.
Open Monday through Friday from 7am-6pm, Saturday from 9am-6pm, and Sunday from 11am-5pm.
A very good place for lunch with crab, etc. (sweet crepes are also available, of course). (They also have sweet crepes (of course).
Here is what I ordered.
It was a Crab Melt Crepe. Very delicious.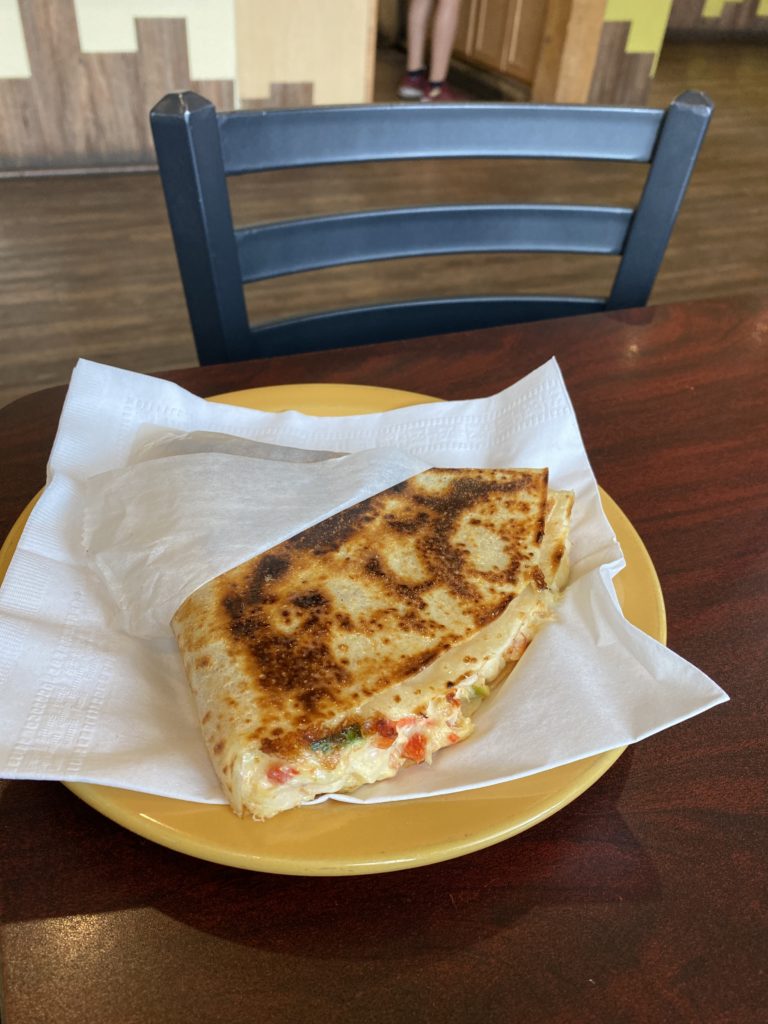 The price was about $13 and I was honestly surprised at how good it tasted.
It is very expensive to order King Crab at a restaurant, but here you can enjoy Alaskan Crab. Moreover, the service was great, Wi-Fi is available, and you can charge your batteries in the room. The service was excellent and the food was delicious.
Here is the menu.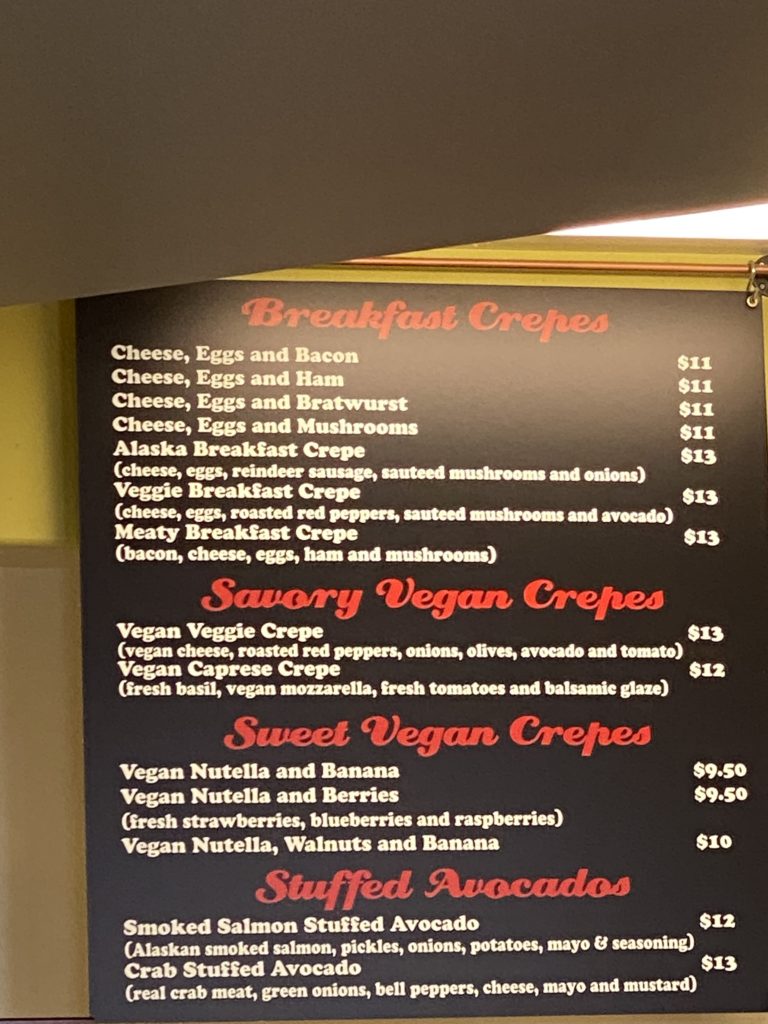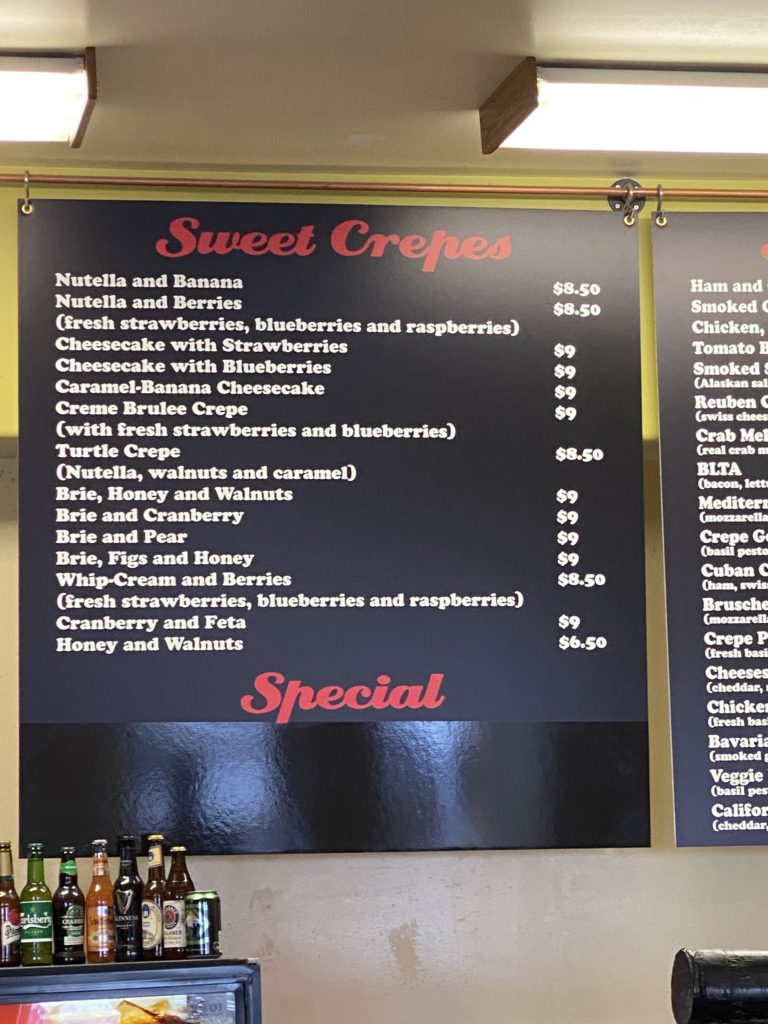 The menu is sweet and salty, so you can choose both. It may be good for a quick dessert, or like having a meal for lunch, also you can visit at morning time and have a satisfying meal.
Located in downtown Fairbanks, you may have hard to find parking in the downtown area. However, you can park on the street in front of the restaurant for up to two hours if you want to park for free. There was parking nearby for a fee, so if you are willing to spend the money, you can park in the parking lot instead of street parking.
(*Parking fines seem to be very high, and the car rental guy told me that a single parking ticket can exceed $100.) So be careful.
The green sign on the left side of the picture allows you to park for 2 hours, but the red sign on the right side is a no-parking zone during all hours, so please be noticed.
The next place we would like to introduce is "Little Owl Café."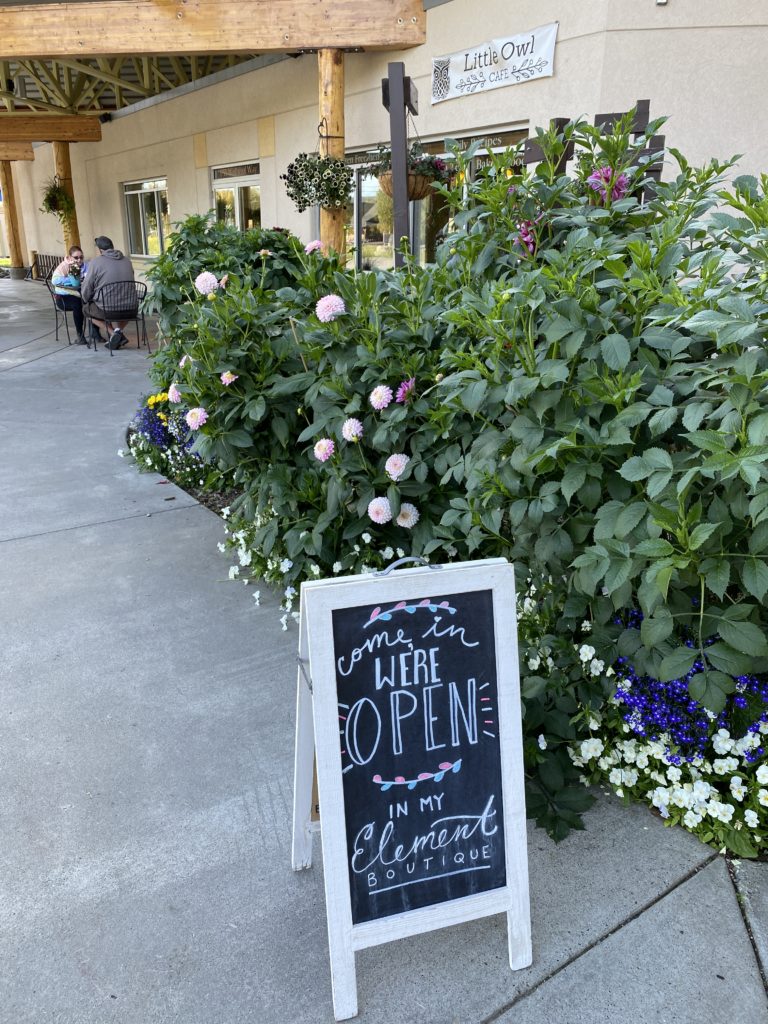 This coffee shop is located a little far from downtown Fairbanks.
Little Owl Café: https://littleowlak.com/
Of course, the coffee is the best thing about this place, but a special thing is that the sandwiches are really delicious. I ordered the "Sweet + Spicy Chicken Salad Sandwich" and here is a picture of it.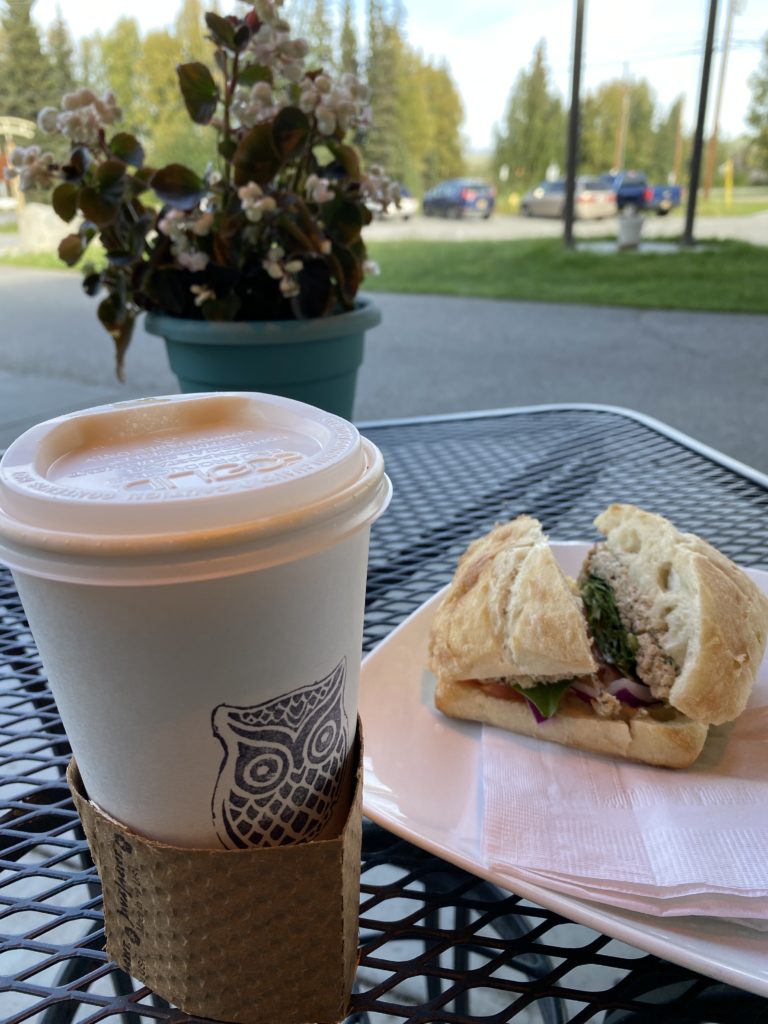 The price is $7.25.
Open Monday through Friday, 7am-7pm; Saturday, 11am-4pm; closed Sunday.
Here is the menu.
You can also enjoy a little cupcake or two.
You can dine indoors, but there is plenty of space outside as well.
When I visited, it was quite busy and full of people inside, making it difficult to order. It may seem a little small because of the large number of customers for a normal sized café.
However, I think the coffee and food are the best in Fairbanks.
The chicken sandwich was really good. I also ordered a latte for my coffee, and if you are quite a coffee lover, this is the café for you. It will definitely be considered different from other coffee.
Parking is not a problem either, as there is a large parking space in front of the restaurant.
The best restaurant for dinner is "The Pump House Restaurant Fairbanks."
The Pump House Restaurant Fairbanks: https://www.pumphouse.com/
This restaurant is located behind "Fairbanks International Airport."
Open hours are Tues-Sat 4pm-10pm, closed Mon-Sun.
Don't worry about parking, as there is a very large lot in front of the restaurant.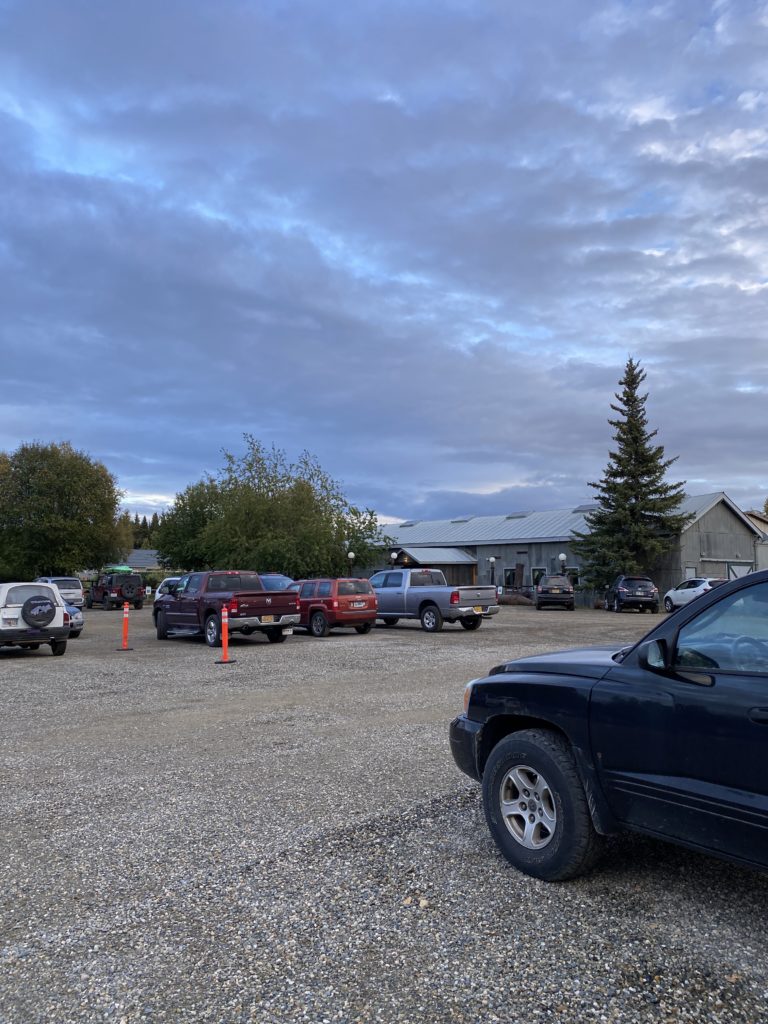 There is plenty of space both outside and inside, and the restaurant can accommodate large groups, but it is best to make a reservation first place. The front desk people will be asked if you have a reservation or not, and then if you don't, there may be no seats available.
It was so busy that I had to ask for an extra chair or seat because there were almost no seats available, even at the bar table.
Billiards(can play pool) is also available, and an artist was playing when I visited.
Anyway, here's to her, cheers.
The service at this restaurant was satisfactory, although it seemed to take a little time because of the busy time.
There were many kinds of beer, and also they served a lot of kind cocktails, so I ordered a martini, which I got addicted to at the Ice Museum. Here is a picture of a raspberry martini.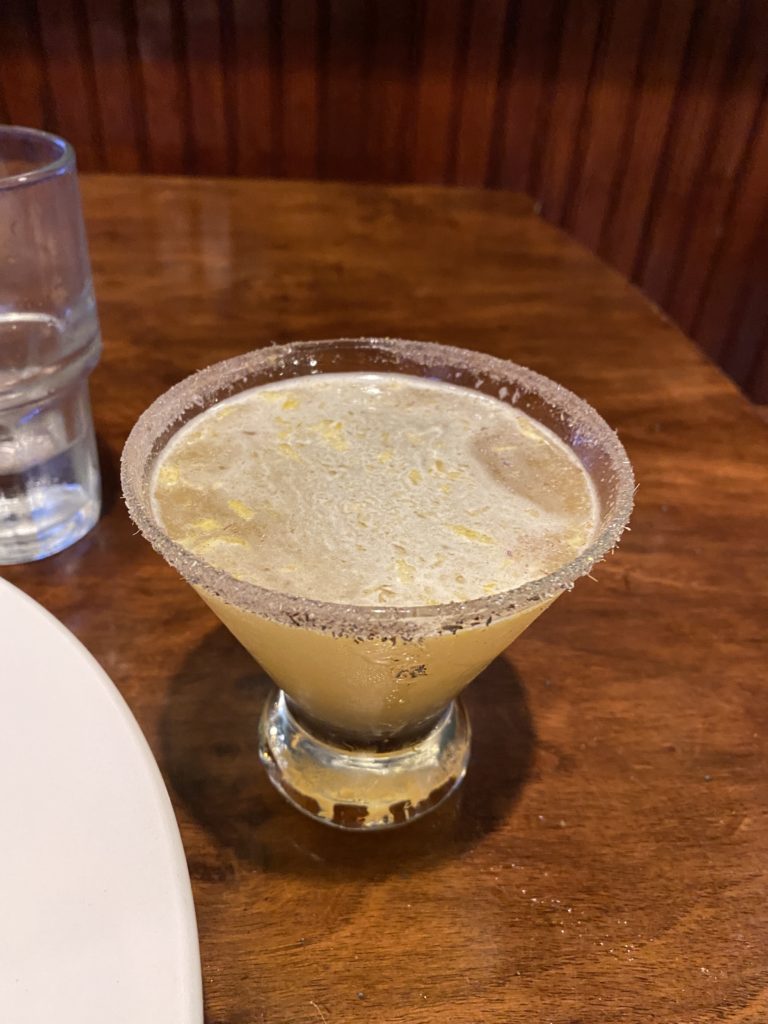 If you are looking for something a little different and luxurious, this is the restaurant for you.
The price range is a bit higher than you would normally expect from an American restaurant, but I think Fairbanks is a bit more expensive overall.
Dinner for one (2 drinks, soup and main course) was about $70 with tip.
I ordered a large bowl of clam chowder, which I personally love.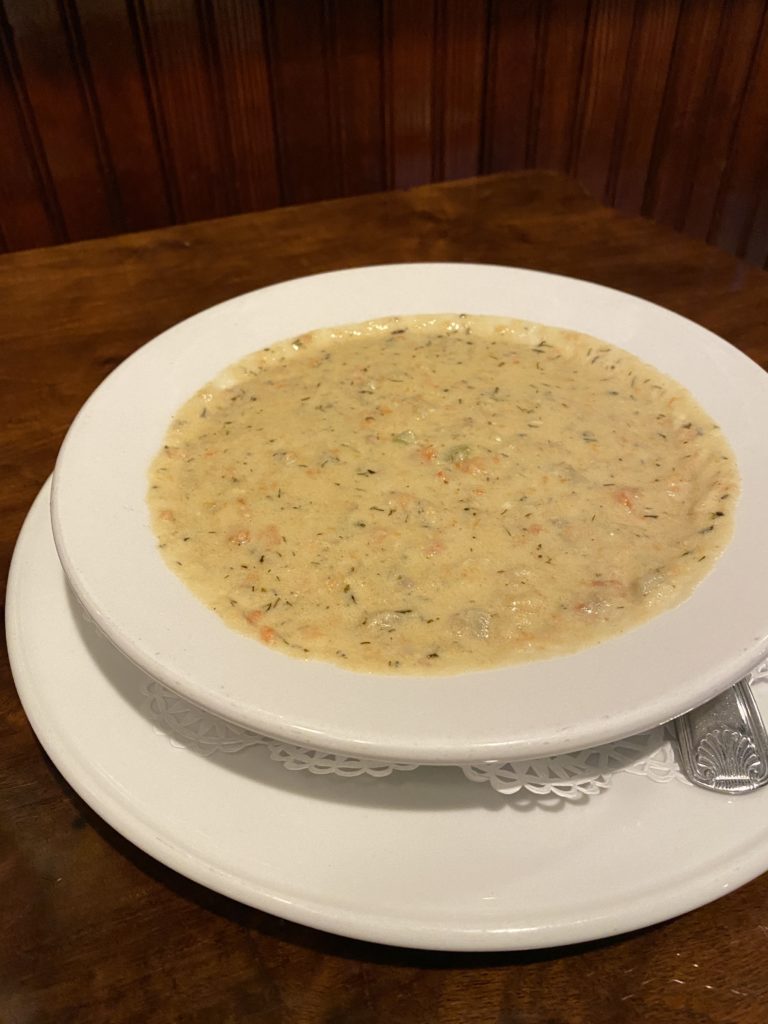 It was perfect for the cold Alaskan weather and tasted great.
For my main dish, I ordered the Seafood Risotto.
It was really delicious and filled me up.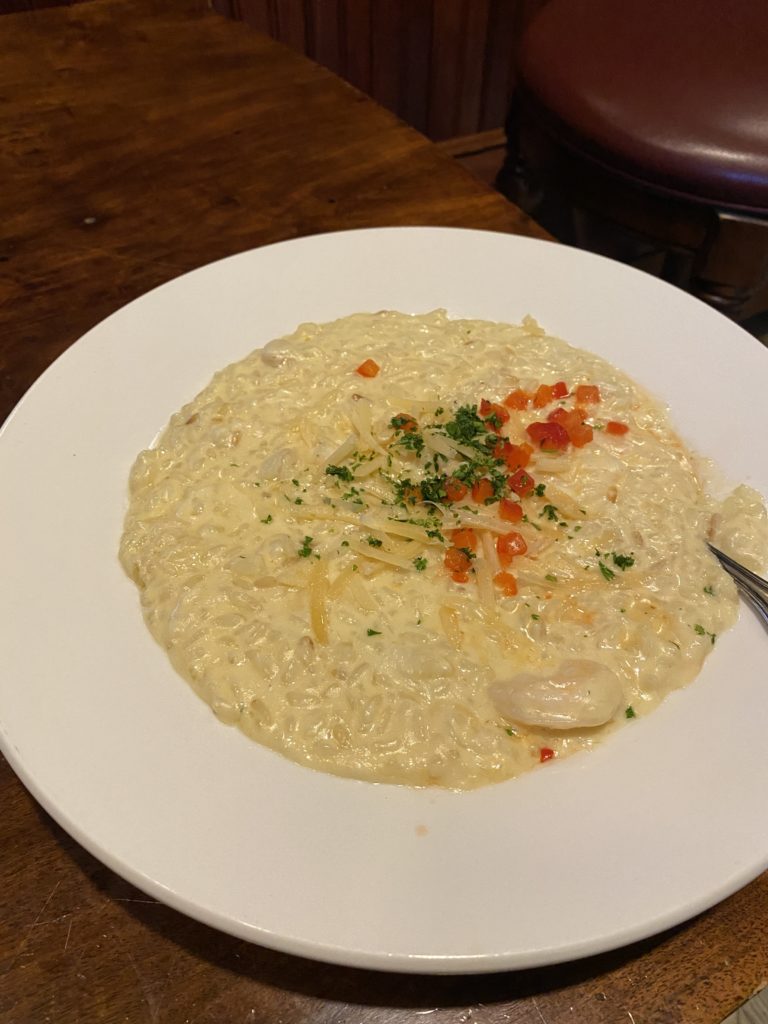 For this article,
I would like to recommend three places for coffee breakfast in the morning, lunch afterwards, and dinner at the end of the day.
When you visit Fairbanks, Alaska, the Northern Lights are the most gorgeous things, but also the restaurant service, and the food too!
However, prices are high everywhere, probably because food is not readily available.
One time I went to a sushi restaurant in Fairbanks and the sushi and sashimi set for one meal cost $70-$100. That's kind of a ridiculous price for me.
That's all for now.
In the next issue, I would like to introduce some recommended sightseeing spots.
I hope this article will be of some help to you during your trip.
See you soon.
ZenJin