[Sightseeing in the U.S.] The Favorite Spot for Beer Lovers in Los Angeles
Today is Saturday.
I visited "Homage Brewing" near downtown Los Angeles to enjoy beer during the daytime.
It is located near Chinatown, within walking distance from the Chinatown Metro Station.
If you are coming by car, you may have a hard time finding parking during busy hours, as parking is only available on the street.
Uber, Yellow Cab, Metro, may also be a good option when visiting since parking is the least of your concerns.
Here is a photo of the location from Google Maps;
Probably your life is good when you can enjoy a beer at 12:00 noon on a Saturday.
First, here is some basic information about Homage Brewing.
Hours of operation are;
Closed on Mondays and Tuesdays
Wednesday and Thursday, 3pm-10pm
Friday, 12pm-12am (midnight)
Saturday, 12pm-1am
Sunday, 12pm-9pm
Sunday: 12-9pm
Food is available! Kitchen closes at 9pm.
Here is the menu;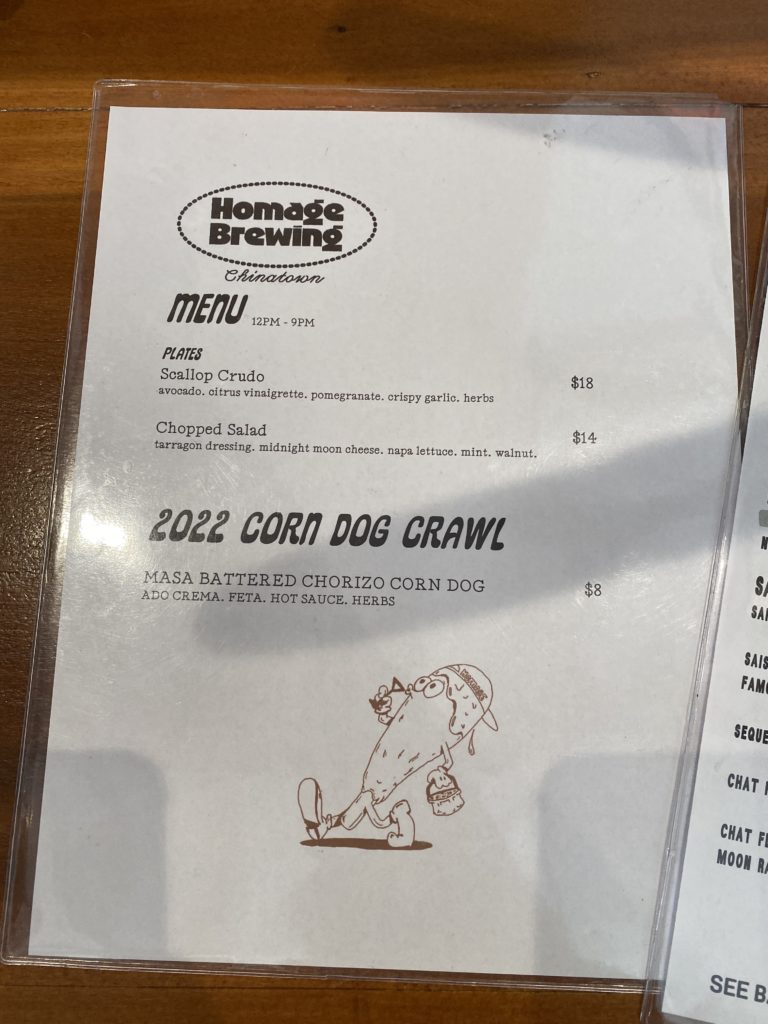 The corn dog is quite intriguing.
However, having just eaten, I decided to have a beer anyway.
Prices range from $6-$8 a glass, depending on the size, but they are very basic.
The first beer I ordered was Hazy IPA [Nectar], which I love.
The alcohol content is 6.8%, which is fairly strong.
It tastes great. I think it's the perfect Saturday afternoon beer.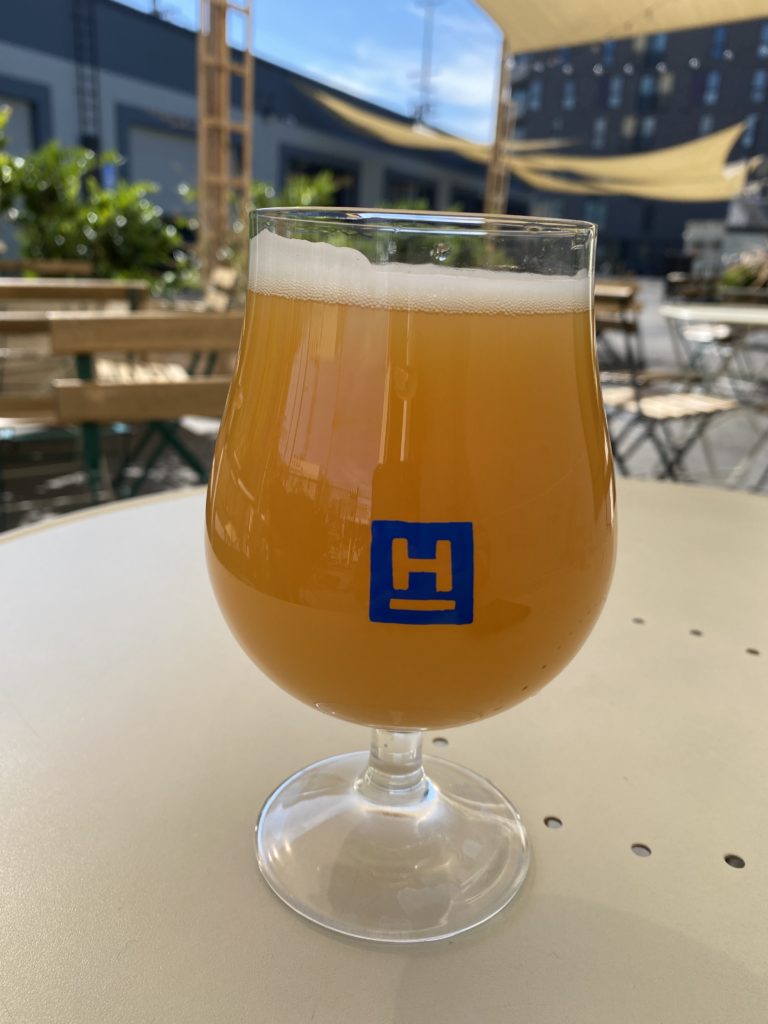 Honestly, I'm tipsy even with this one. Seriously delicious.
If you like beer, this is definitely the place to go.
I haven't had a beer in a while, so it was intense. (I've stopped drinking in the evenings, so I get drunk pretty fast.)
And the umami is off the charts.
I'm so glad I'm alive to be able to get so much happiness from drinking outside after all these years!
There are tables and chairs outside as well, and you can enjoy the sense of freedom in the patio space.
There are 9 seats, although I feel there are a little few seats.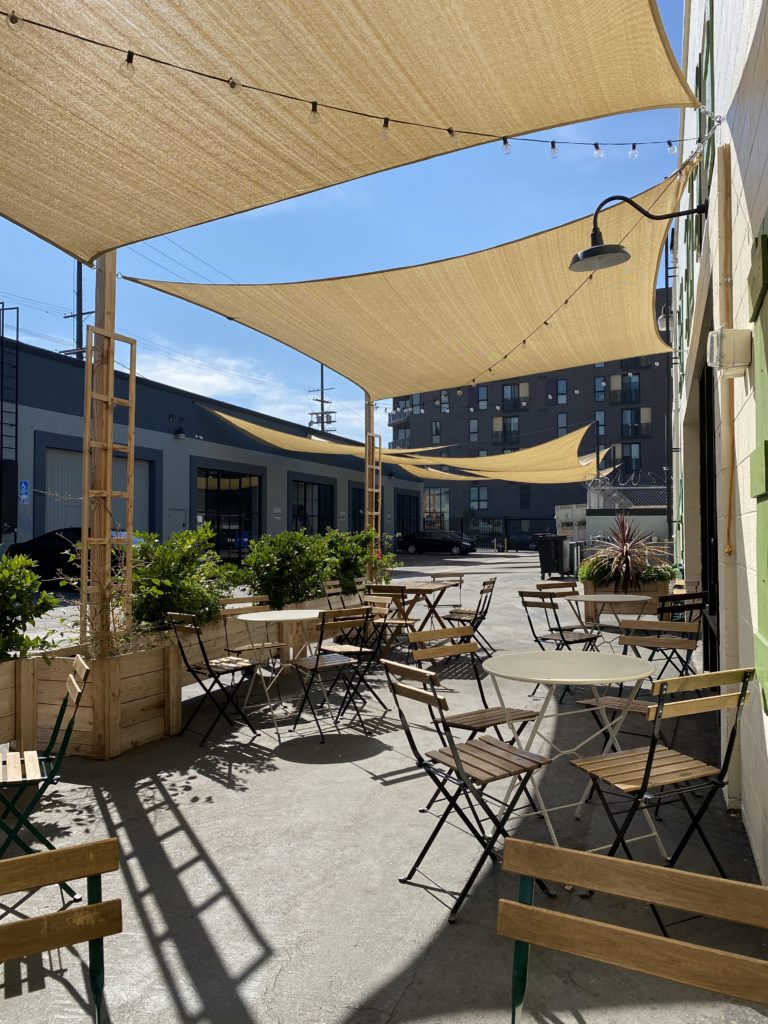 I will also include a picture of the inside.
Early on Saturdays, there are not that many visitors, making it a good place for those who want to relax and enjoy their beer.
Breweries can be a great place for a relatively mature date.
This is because they have "Saison Beer" here.
Some people may not be familiar with it, but it is a sparkling beer from Belgium.
It has a fruity taste that women like and is not beer-like.
It tastes similar to cider.
Cider is also a sparkling beer, like sparkling wine.
It has a taste similar to champagne, so if you are like me, who came here to drink beer!
If you are like me, you should order an IPA or lager beer.
If you want to try a little bit of Saison or other beers before making your choice, tell the bartender and he will give you a small glass to try.
Just ask the bartender "Can I try some a little?
There is no need to be shy.
If the bartender is not too busy (or even if he is), he will probably be happy to let you try it.
I am also a beer fanatic and have had a hard time tasting a beer I ordered because I thought I knew what I was getting into, but the beer I ordered was not for me.
You don't have to worry about it.
That's all I have to say.
If you travel to Los Angeles, California, and visit only famous places for tourists, it will be difficult to know and having experiences about the local Los Angeles life.
I would like to introduce more and more local spots in my own way, because I think you can feel more American outside of the tourist spots.
I think many people stay away from the downtown area because they think it is dangerous.
In my opinion,
downtown Los Angeles is the best place to enjoy local culture.
If you are interested, I would be happy if you check back again when I visit other places.
Thank you for reading.
ZenJin