[Solo Travel] Zion National Park in Utah, recommend to visit Zion for hiking and animal lovers
Today, I would like to introduce Zion National Park in Utah, USA, which I have visited before.
Zion National Park is simply awesome because a lot of wild animals are out there.
I highly recommend to visit Zion for everyone but especially someone who likes hiking and animal lovers.
It was like January 1st, New Year's Day, just after the countdown.
I rented a car from Los Angeles after I was thinking to go starlight to Utah, but I was suddenly something in my mind, so just stopped in Las Vegas.
Because I was craving some food, and there was a restaurant (highly recommended) that I wanted to go to the palace station hotel which has the Oyster bar.
Honestly,
it is the best in Las Vegas.
I always eat gumbo when I come to Las Vegas.
I often order clam chowder,
but this trip I ordered "Pan Roasts."

The price is about $30, or about $50 if you include drinks and tip.
You can check the menu from the official website below the photo.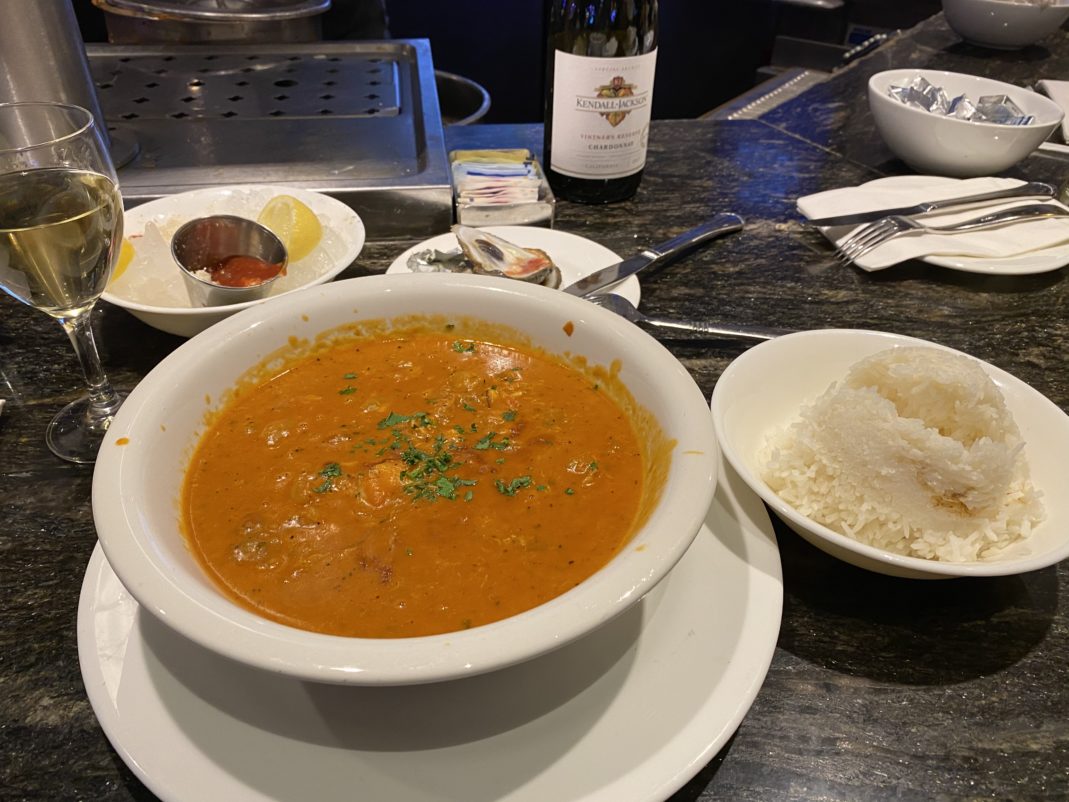 The oyster bar is at palace station hotel.

This bar has only bar seats and only a few people can eat.
probably about less 20 peoples.
The wait time is endless, always about 2 hours in line.
But, here is the good news for you.
From my experience, it has to wait in line for 15 minutes at specific time zoon such as between 5:00 to 6:00 a.m. in the early morning time.
If you don't want to wait in line for two hours and it is okay to have a heavy breakfast, you can visit in the morning time is the best choice.
In Las Vegas, after filling our bellies, I drove to Utah.
It takes about 4 hours from LAX to Las Vegas.
Then it would be about 3 hours driving to Zion National Park in Utah.
Since the route is Highway 15, it was relatively easy to drive.
I was a little concerned about snow in January, but the freeway was well plowed and we had no trouble with snow until we reached Zion.
There was a little snow in the park, but no snow tires or snow gear was needed.
The weather this time of year is quite cold, so I went with a down jacket.
I think it was about 8 degrees during the day and a whopping -5 degrees at night.
The down jacket was just the right choice.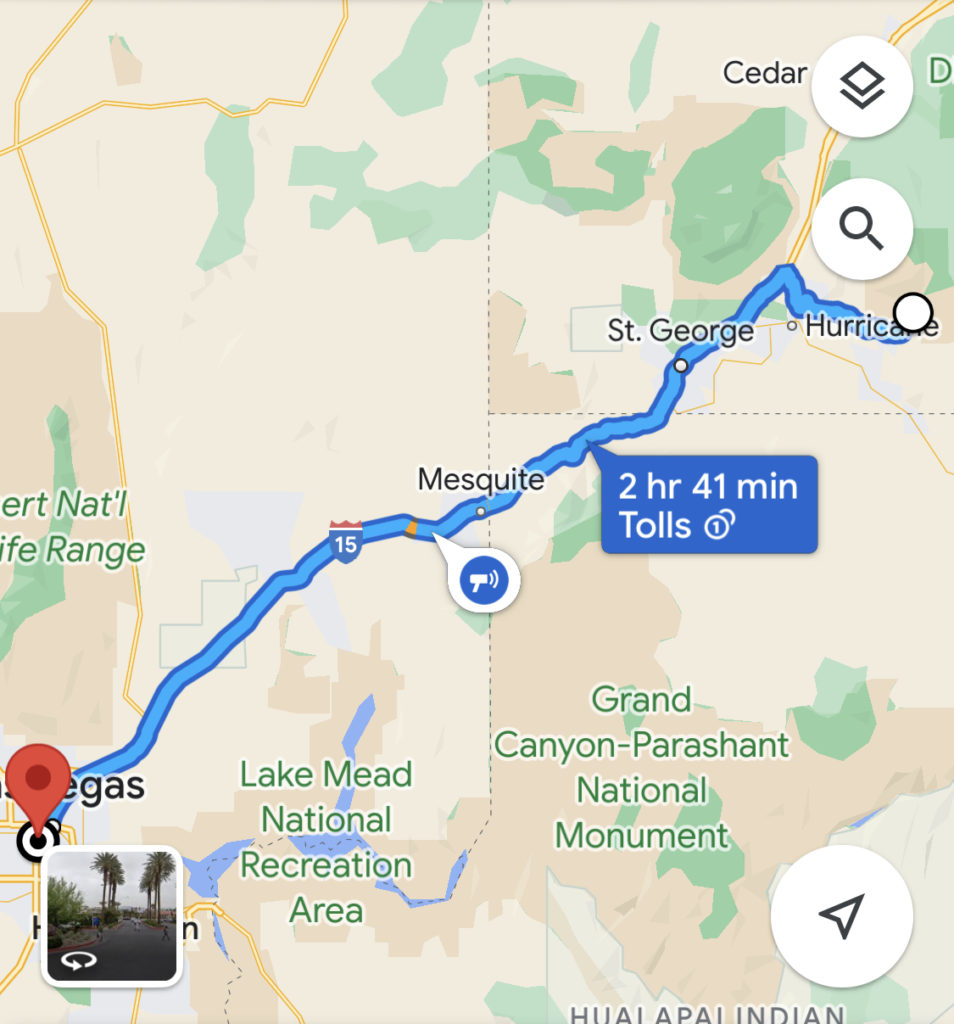 I always filled up our tanks with gas, so I didn't have to worry about running out of gas.
If you run out of gas or have any other problems, call the car rental company and let them know.
It is a good idea to have insurance and road service when you rent a car.
-Zion National Park-
You can see the official site by clicking the picture above.
It is advisable to check the official site before visiting the park, as the content changes considerably depending on the season.
At the South Entrance, you will be charged an entrance fee for the park's road tolls.

If you use a car to go around, it is $35 per car.
(If you have purchased an Annual Pass or other pass, this admission fee is waived. But please check the expiration date before you go.)
If you are not familiar with the pass,
please see the following article for an overview of the pass.
Enjoying Alaska's natural beauty at Denali National Park
It costs $20 per person to enter the park without a car (Children under 15 years old are free.)
The park is open 24 hours a day,
but I think the buses and facilities in the park close at around 5:00 pm.
I think the 24 hours is written because some visitors camp and sleep directly in the park.
Currently, as of November 2022,
the facility hours are 8am-5pm. *The hours seem to change depending on the season.

In general, visitors who are only planning to tour the park should assume that the hours of operation of the facilities are the same as those of the regular stores.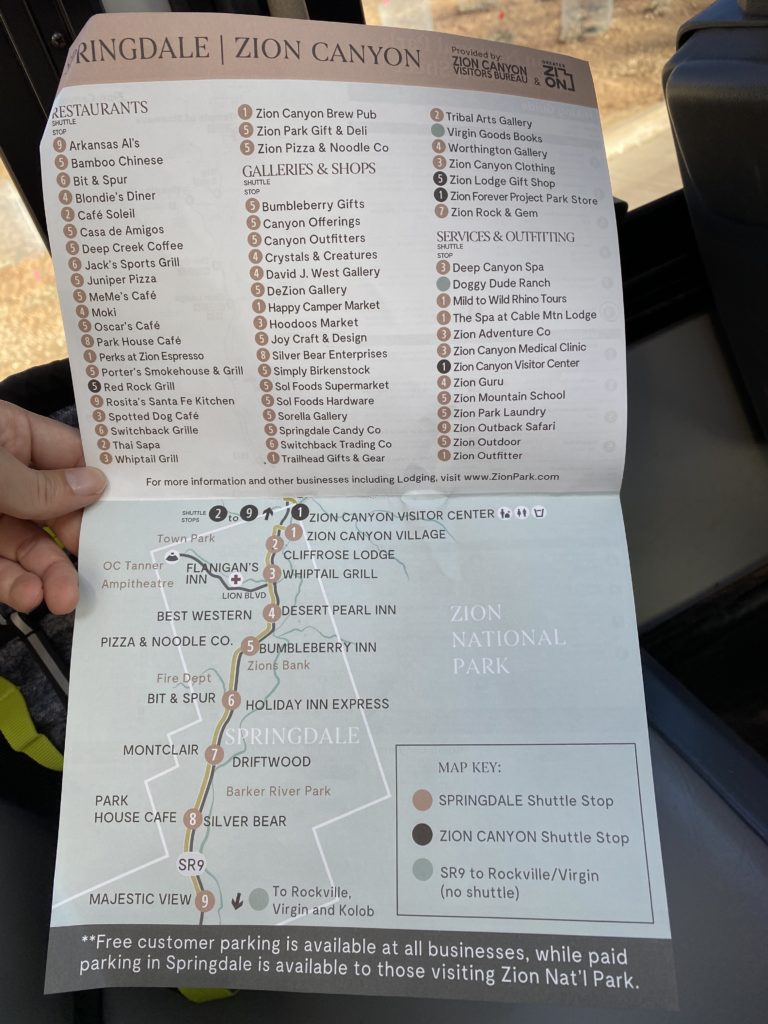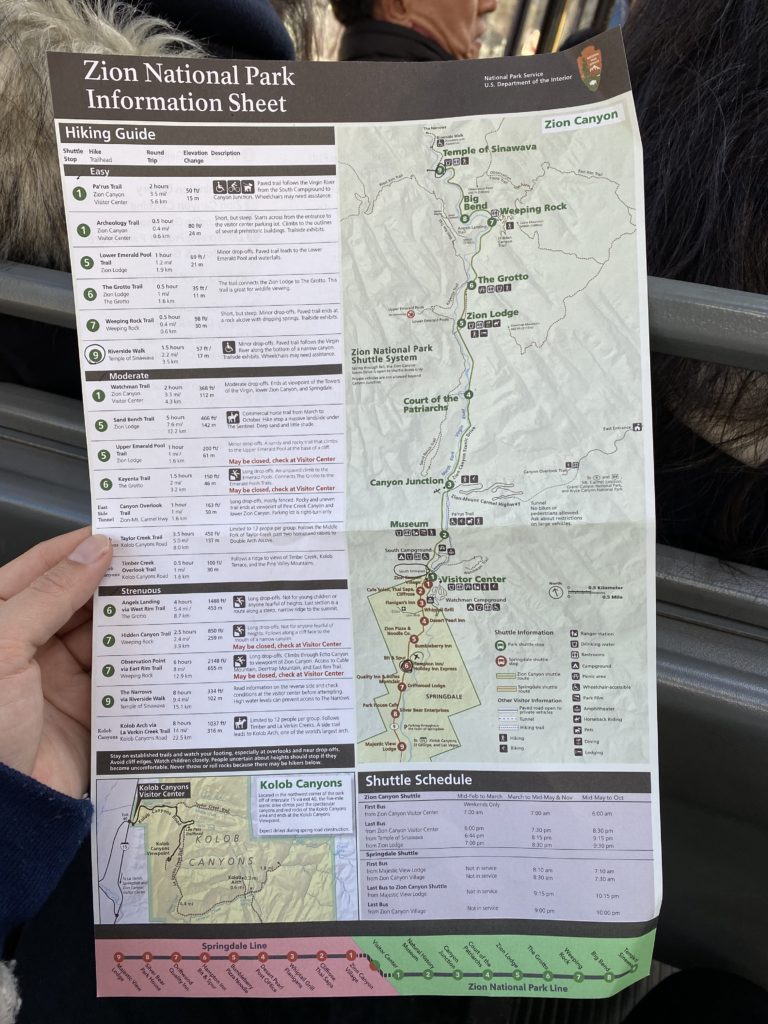 Parking is also free.
*There are some places that charge a fee.
It is very crowded from March to November after the winter.
Even on New Year's Day when I visited, there were quite a few visitors.
You might want to get there early before the parking lot fills up.
I suggest you visit the Visitor Center when you first arrive in order to get maps and other information.
After asking a lot of questions there, I decided to take a shuttle bus to go around the park.
The shuttle bus service is free of charge. (*As of 2022)

The shuttle bus takes about 45 minutes to the last station, so it did not feel that long.
You can get off at any point you want to go along the way.
It was much easier than the two-hour bus ride to Denali National Park in Alaska.
I decided to go to the last point at a stretch first, and then get off gradually, hiking as I went.
Here is the time table.

As you can see in the table, the schedule changes depending on the season, so it is best to check the schedule from the official website.
The bus stop is located right next to the Visitor Center, so you can get on the bus from there. You will be able to find it easily because there are many people there.
I just realized that I am glad I went on January 1!
No buses will be available from the 2nd. Lucky!
However, I hiked until the last minute to take pictures, and as a result, I missed the bus and walked for about one or two hours in the dark with other people who had missed the bus to the Visitor Center.
It is a very large area, so you need to be physically fit! It is also cold, so a down jacket or raincoat is a must.
However, once you start climbing up the mountain, you will not feel so cold even if the temperature is around -0°C.
The man in the photo is wearing a T-shirt.
The man in the photo is wearing a T-shirt. Wasn't he cold or not,?
After that, we chose the trail (hiking course) we wanted to go, got off the bus, hiked, and repeated.
The trails were covered with snow in some places, and there were ponds covered with ice. This made me feel very cold.
I wanted to go ice skating, but it is forbidden to enter the river or pond. It's dangerous and you shouldn't do it.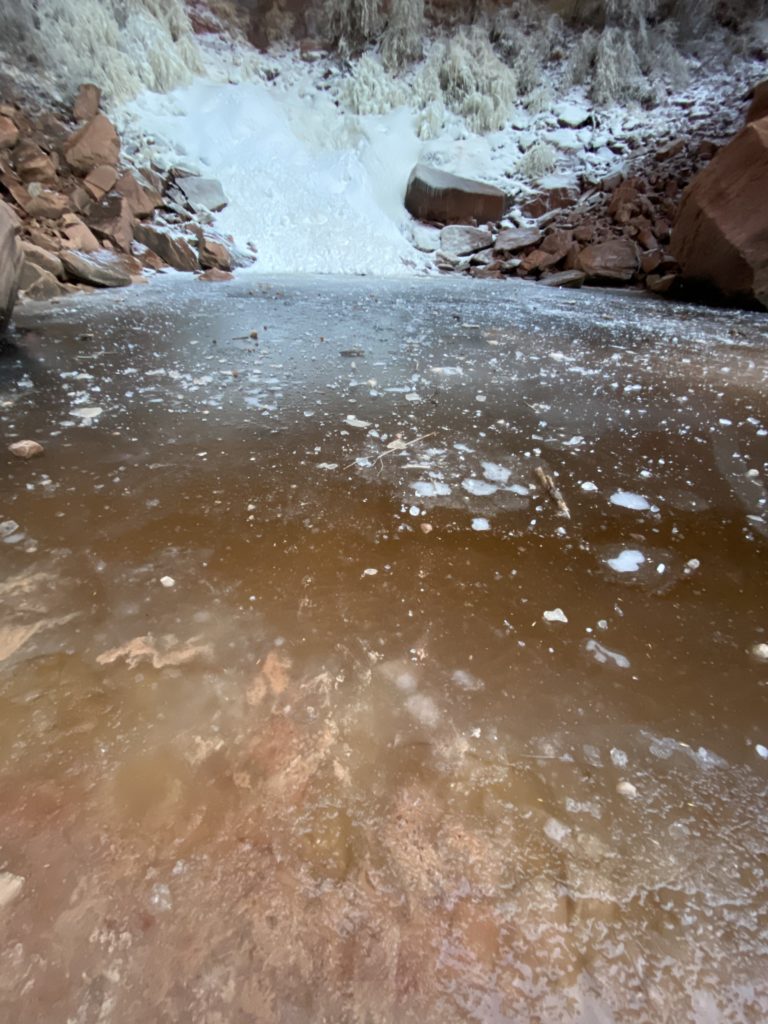 Also, one of the attractions of Zion is the presence of natural animals.
At the end of the year, which was also the Christmas season, I felt happy to see these animals.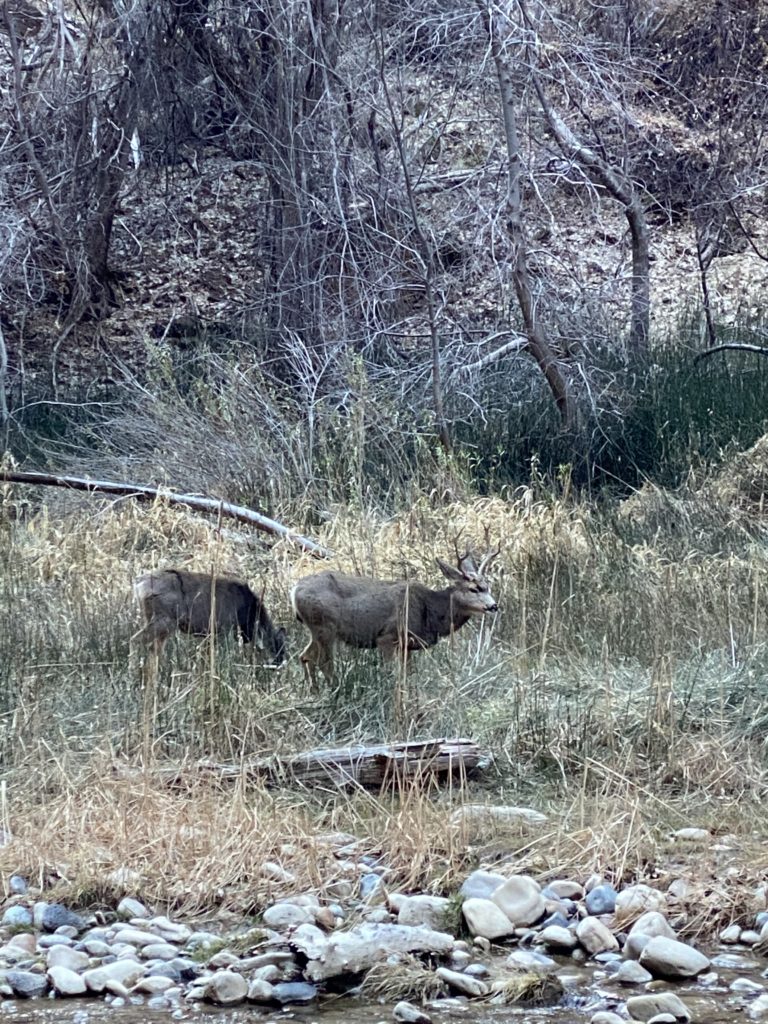 There was a spot on a short hiking trail where you could take some really beautiful pictures.
I think it was Weeping Rock. I'm sorry for being so vague and inappropriate.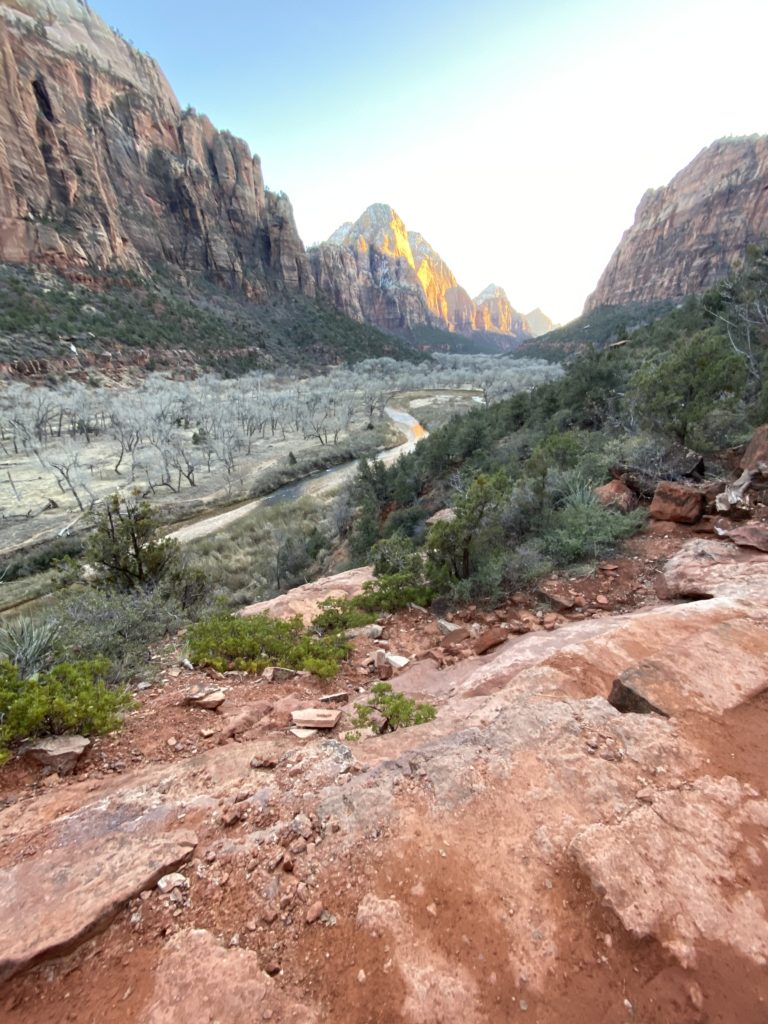 Zion has many short hiking trails, so you can get up there in about 30 minutes and enjoy the spectacular view.
The Hiking Guide has distance and other information, so you can get a rough idea of how long it will take.
If you miss the bus, you will end up walking in the dark like I did, so it is safer to check the length of the trails when visiting with your family and children.
Here is a picture of my blunder!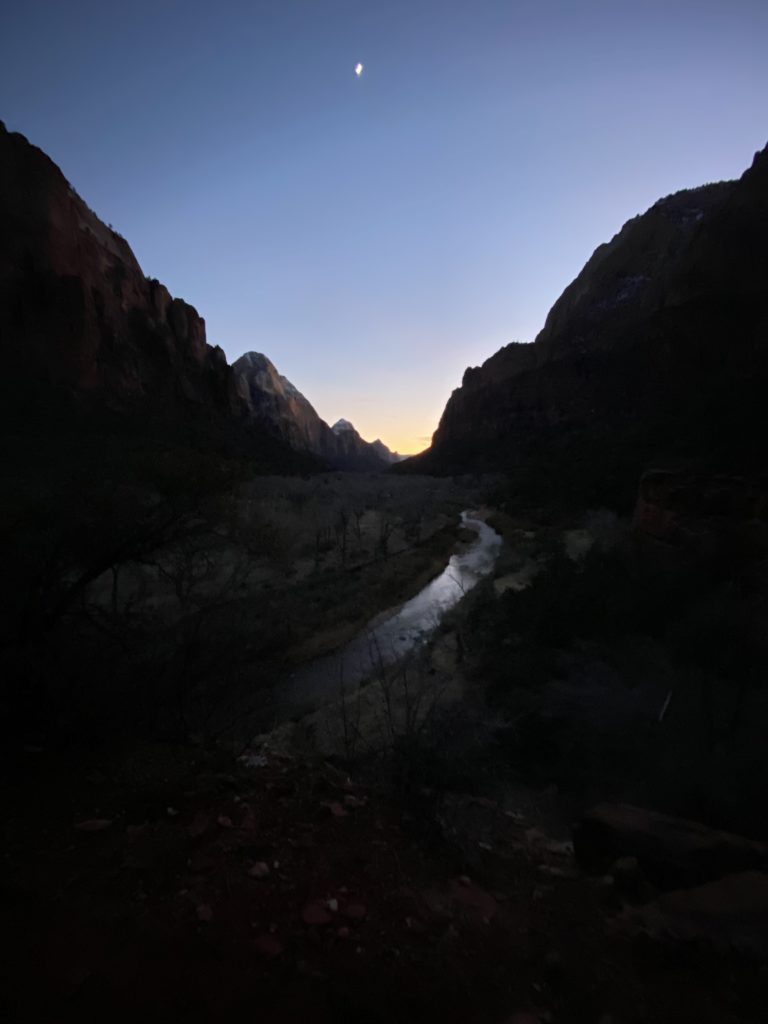 And it was already past 7 o'clock.
Around 6:30, I had a bad feeling.
I missed the ride, it was pitch black, and I managed to make it back to the entrance because the road was a straight shot, but no, I was seriously tired.
We kept walking on the mountain night path not knowing how long the goal was for an hour or two after the hike.
No, but it was a great experience.
I was already hungry, so we went to a pizza place near Zion National Park.
Here is a picture of it.
River Rock Roasting Company is a very popular restaurant.
If you go there during the daytime, you can enjoy a meal with a spectacular view.
Unfortunately, by the time I arrived, it was dark at night.
I couldn't see anything of nice views, but I got a pizza.
It is about a 30-minute drive from Zion National Park.
I was looking for a place to eat near the hotel and decided to stay here. It had a lot of reviews.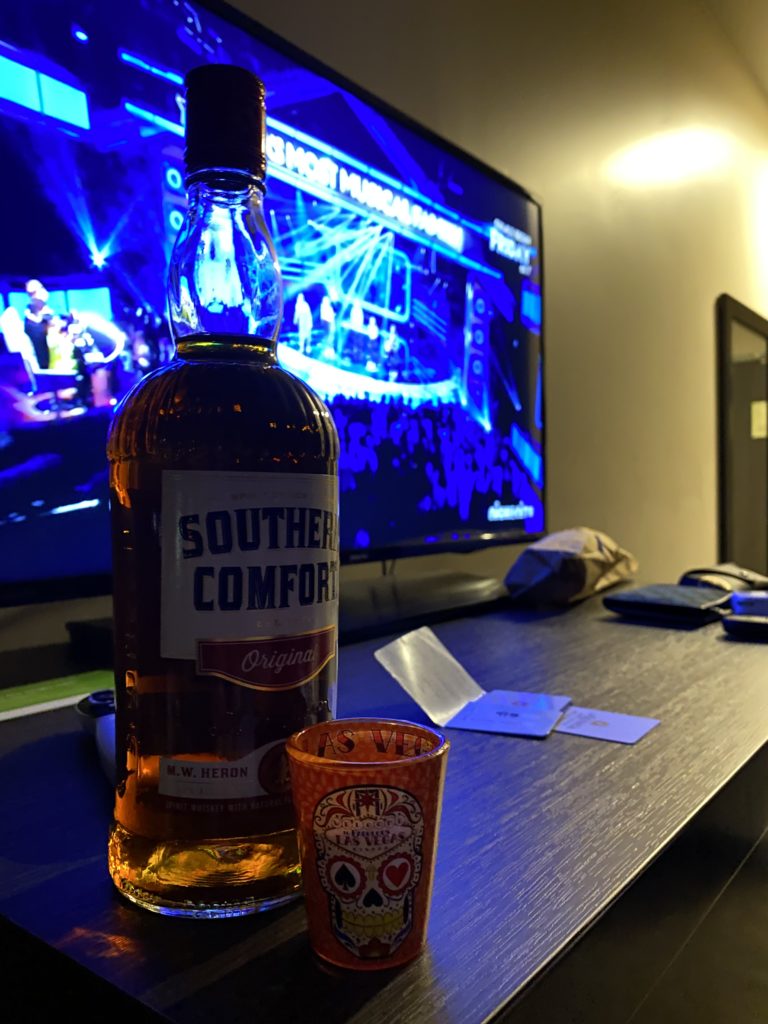 I arrived at the hotel.
Pizza and whiskey to warm up the cold.
By the way, what I like is to collect shot glasses of national parks and famous landmarks that I have visited.
By the way, I bought a Skull shot glass in Las Vegas.
Food is one of my favorite things to do during the trip.
I always want to travel again because I really love to enjoy that and drinking.
Traveling is a great way to meet new people and is one of my favorite things to do in life.
I often travel alone, so if you are interested in solo camping or solo travel, I think you may find this article useful.
I would also like to record my experiences of traveling solo and write about them, so if you like to travel, please come back to read more.
Thank you for reading.
ZenJin